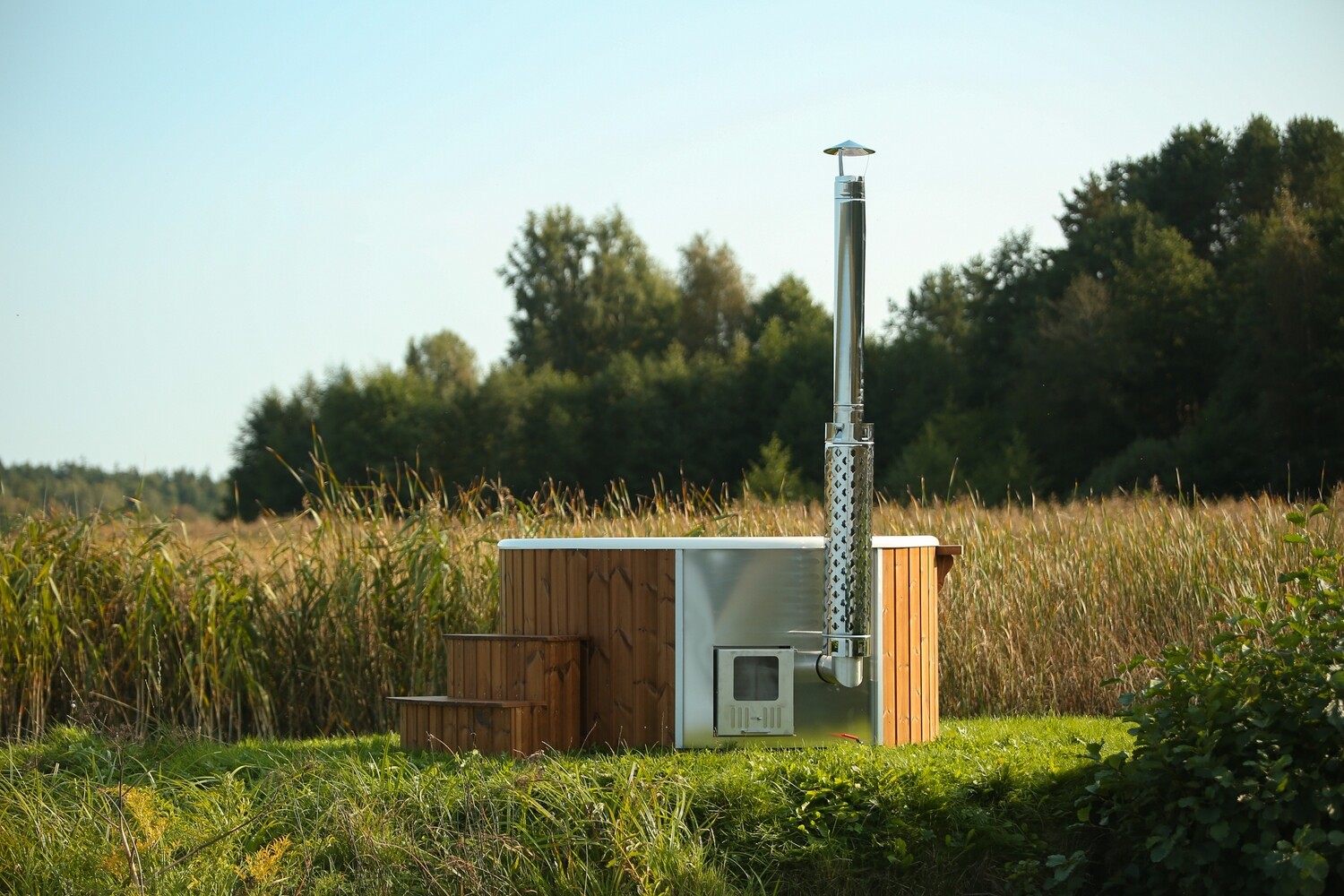 Deluxe Woodfired Hot tub
SKU sl20
Product Details
Viewing can be made by appointment
Fully Loaded Deluxe Fiberglass Round Tubs all extras included in price
This hot tub is for people who are not keen on spending an extra time on cleaning the standard wooden hot tub. With fibreglass hot tubs you not need to worry about keeping the water in the tub as the wood doesn't dry up. Another great advantage of these hot tubs is dramatically reduced heating time due to closed seating area.
FITS 6-8 ADULTS
TRADITIONAL SCANDINAVIAN LOOK AND FEEL
ERGONOMIC SEATING, QUICKEST HEATING UP TIME AND EASIEST MAINTENANCE
EXTRA POWERFUL EXTERNAL INTEGRATED STOVE
RECLINED SEATING AND MUCH MORE SPACE INSIDE!
Specification
DIAMETER: 180CM (INTERNAL) 200CM (EXTERNAL)
HEIGHT: 100CM
PEOPLE CAPACITY (6-8 PEOPLE)
OUTSIDE DECORATION WOOD: THERMOWOOD
HEATING TIME: 1.5- 2.5 HOURS DEPENDING ON THE WOOD / WEATHER CONDITIONS
What's included
HOT TUB
MATCHING WOOD STEPS
INTERNAL STAINLESS-STEEL HEATER WITH PROTECTION PLATE
CHIMNEY COMPONENTS / OR EXTERNAL HEATER
STANDARD DRAIN (WITH PLUG)
PROTECTIVE FENCING UNIT (FOR INTERNAL HEATING)
STAINLESS STEEL STRAPS
WOODEN STIRRING PADDLE
HANDCRAFTED FIRE SHOVEL SET (INTERNAL STOVE ONLY)
HOT TUB ACCESSORIES / UPGRADES
INSULATED LID, AS YOU WOULD BE DAFT NOT TO KEEP THE WATER INSULATED!
Measurements
DIAMETER: 180CM (INTERNAL) 200CM (EXTERNAL)
HEIGHT: 100CM

PLEASE CALL TO ENQUIRE ABOUT CURRENT DELIVERY TIMES
Save this product for later